Messrs Julius Martinson and Samuel Saka Boateng have assumed duty as Acting Managing Director (MD) and Acting Deputy Managing Director (DMD) of Quality Control Company Limited respectively.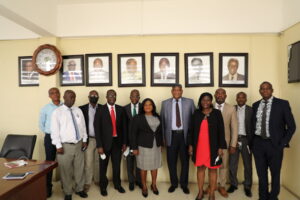 In their first address to Management of QCC at the Boardroom on the 22nd of March 2021, the Acting Managing Director and Acting Deputy Managing Director requested members to give out their very best to help them succeed.
They aspire to contribute significantly to the growth of QCC and also achieve new heights in the Quality Assurance sector.