The five-member Board of the Quality Control Company Limited (QCC)  was inaugurated on 17th August 2021 by the Food and Agriculture Minister, Mr Owusu Afriyie Akoto who administered the oath of office and secrecy to the board members
The honorable minister made remarks about the importance of Quality Control Company to the cocoa value chain. He said the job of Quality Control Company is to maintain and improve the quality of Ghana's cocoa beans. Because of the quality, many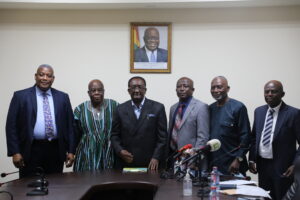 countries, especially Cote d'Ivoire, have adopted our practices, which have helped improve the quality of their beans within time. He added that the Board has a heavy-duty to oversee the work of the company.
The Board chairman, Dr Ebenezer Owusu, in his acceptance speech, thanked the president and the minister for the opportunity given them to serve the country in another capacity and added that they are all members of the previous Board and very grateful to be reappointed, which indicates the confidence and trust they have in them.
He stated that during their tenure as Board of directors, the company was granted accreditation by the international organization for standardization (ISO) and the international electrotechnical commissions (IEC) for the inspection of cocoa activities and testing laboratories for testing laboratories pesticide residues. He added that reaching the top is a monumental achievement but remaining there may be the most spectacular feat.
He assured that he and the newly elected Board of directors would ensure the premium quality that Ghana's cocoa beans enjoy will continue and remain the preferred choice for all chocolate and beverage producers.
He finally concluded that what we do in the coming months would define Quality Control Company for years to come as a board. Therefore, he urged the newly elected Board of directors to come together to strengthen the company.
The five members of the new Board of directors of Quality Control Company are;
Dr  EbenezerOwusu –senior lecturer, department of plant and environmental Biology–chairman
Mr Julius Mark Kojo Poku Martinson, Managing Director, Quality Control Company Limited- member
Mr. Saanbaye Basilide Kangberee- Member
Mr.Barima Afrane, senior lecturer, college of health sciences –member
Mr. Kwaku Oppong, representative of all LBC's-member